WHAT PEOPLE SAY ABOUT US
HAPPY CUSTOMERS, HAPPY TESTIMONIALS
Experiencing so many changes in my lifestyle and career. Amazing experience. It changed the way I think and react in various situations.I am now very well aware of my thoughts and actions. All techniques are unique and so powerful. Great experience of Sound session. He is an excellent therapist whom I would recommend without reservation.
"Parth is a well-established Meditation Coach and delivers a very professional service. As a skilled therapist Parth brings not only depth, warmth and wisdom to his practice, he also has a sense of humor and charm, that invites trust and ease to his clients. I highly recommend Parth to any individual or organization in need of quality service."
Rajen Chudasama
Sr.Officer, New assurance ltd
I love the assistance Parth has and is providing to me. Don't know what I'd do without him! I've gone through many 'life events' while seeing Vyas and he rolls with it with me… it's so reassuring to know a true professional cares about this one patient of hers. He's simply the best!!! I always say, 'everyone needs a Vyas!' I mean that as the highest compliment I could say. Thank you all!

Dipti Chaudhari
Yoga Trainer
Hi Parth! I again wanted to extend a heartfelt and humble thank you from an extremely grateful man. (My son) came to you many years ago as a confused and troubled teen….he will (now) achieve his dream. A dream I can say was unreachable in my opinion without your guidance with him and myself. Thank you Dr. Vyas for a job well done.
Sandip Mangukia
Proprietor
I know this is your job and all, but that doesn't take away from how wonderful you've been. I'm positive you've gone above and beyond what you're expected to do. I truly see you as a hero. Not only to me, but to so many others. Who knows where I'd be right now had you not been caring for me. And really caring. There really needs to be more Dr. Vyas in the world, but I am lucky I found you.
Sandhya Usha
Fashion Designer
It has been a year of healing and reflection and I wanted to give you an update and thank you for helping me get the point where I had the strength to take my life into my own capable hands…..I had the ability and strength to take control of my own life. And do what I needed to do for myself and my children. I have also learned (or relearned) that I worthy of a loving relationship. The years of me being dismissed are over! I thank you for preparing me to learn these lessons.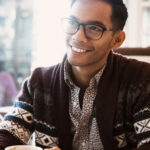 Dr. Vyas, We are pleased to inform you that you have one of the most outstanding therapist in your clinic and we appreciate all the enthusiasm he has. Parth Vyas has been a great support to our family and has always helped us with our son. He has been a part of our family since 2011. The positive attitude and motivation he gives us should definitely be acknowledged.
Aniket Purani
Manager, SBI
Parth sir's session is so calming and soothing and techniques we learn is really effective in Relation, Spirituality, Money and Health. Wonderful learning experience from Parth Vyas. This session has helped me to gain confidence and again stand in my career
Wonderful. My Mind and Body feel so relaxed and energetic. Thank you. Looking for more sessions to attend. -
Thank you so much Mr. Parth Sir for guiding us so nicely. I feel blessed to have discovered you and get connected to you. Best scientific and spiritual uplifting sessions with very good examples.
Amazing experience. I am blissful and at peace now. got lots of knowledge and enjoyed the meditation. thank you sir
post covid i was going through many health issue and my mental health was also affected. I have started to notice lots of changes in myself, in my attitude and i'll soon reach to my Goal.Truly amazing experience which i can not describe in words but i can definitely recommend you all.
Many Changes in my Personal and Professional Life. Many of financial issues resolved easily and smoothly. Improvement in My and Husband Business. My health has also improved, after a fracture, I had difficulty in walking. Now, I am able to walk with confidence. I have come out of most of the negativity through meditation & counselling sessions. God bless you Sir. Gratitude.
Parth sir's sessions are really awesome. Whenever i attend the session, it gives me high energy and confidence.Sound healing & Chakra healing sessions are so awesome. Thanks and Regards
Best meditation coach have ever seen.very down to earth, always over delivers. You will always receive more than you expect from his sessions. Thank you Sir
I learnt about Aura Healing ,Chakra Healing ,Cosmic Healing. Its amazing session along with Sound Bath to heal your mind , remove internal blocks and attract abundance. Sir has powerful knowledge. Gratitude.
Sound Healing Meditations were awesome experience. Parth Sir explains things in very gentle way. Very interesting and helpful sessions. Can feel the energy instantly. I feel so relaxed and light.
Awesome session, powerful sound healing session. could feel a transformation in oneself. I see things with a positive attitude. Always helpful in post session support with review and practice notes. I can feel my inner self and lots of energy.
It was really amazing, I leaned a lot from him. I got lots of techniques which are helpful for me in my personal life in all ways.Thank you so much Parth sir
Thank you for the awesome transforming session. I experienced divine shifts in my health, career, relationships and in my mindset. Sir is helping to maintain calm and positivity in every area of our life. He is experienced and has very powerful knowledge. Feeling blessed to join his sessions.
You are doing such a excellent work ...you are full energetic person. I have learnt so many new things related to chakras and all bodies. You are helping us to come out through tensions and stress of daily routine. I love your techniques and the way you teach is very powerful.
Amazing sessions. It shows through his years and years of dedication and passion for spirituality, positivity and vibration knowledge.Thank you for inspiring, teaching and transforming lives. I am very happy and blessed to be one among his community members
I love his sound therapy sessions he gives as it heals very deeply. I am blissful and at peace now. He is truly holistic abundance mentor. From joining I have became more positive about all aspects of life. Worth of changing life attitude n goal.
Hi.. You are helping to come out of tensions and stress of daily life. it's really a miraculous session for those who actually want abundance and prosperity in the all aspects of life and practice techniques regularly. I have learnt so many new things related to chakras and all bodies.The effect of sound & music goes deep inside the cellular level and it feels very joyful and energetic.
It was indeed a wonderful session. Looking forward to enroll for advance course in future. My blessings to him. Thank you so much for the sound healing sessions and you are a cool calm spiritual master.Gratitude.
Wonderful learning experience from Mr. Parth Vyas. I do feel the change. He teaches very useful techniques to cleanse/energise your Aura/Chakras. I also feel the problem/pain going away from the organ of my body. I feel very relaxed and energetic.
) Amazing experience, felt energetic and fresh after attending the session. I had pain in shoulders and now i feel so much better.my positivity and abundance mindset is developing so powerfully. Parth sir teaches about Cosmic energy, its wonderful. Sound meditation session was extraordinary, peaceful and relaxing. Thank you sir
) I am thankful to Parth Sir for very powerful session. Feeling very satisfied and relaxed. Got solutions for many pending problems. Learned the science of Sounds and vibrations and how it changes our lives.I would like to join more and more session of yours.
Powerful sessions. All filled with energy. It helped relieve of many years back pain and helps in calming mind and staying positive. Sound meditation was so helpful to me. Gratitude to Mr. Parth Vyas.
Check out our authenticity
Google ratings and reviews
Please Rate Our Quality For Us To Perfect More
We always appreciate your feedback and that helps us improve our services.
Thanks for choosing us.